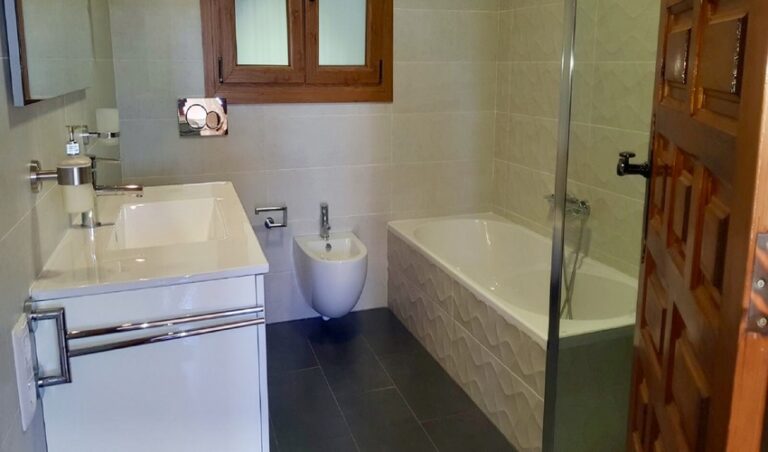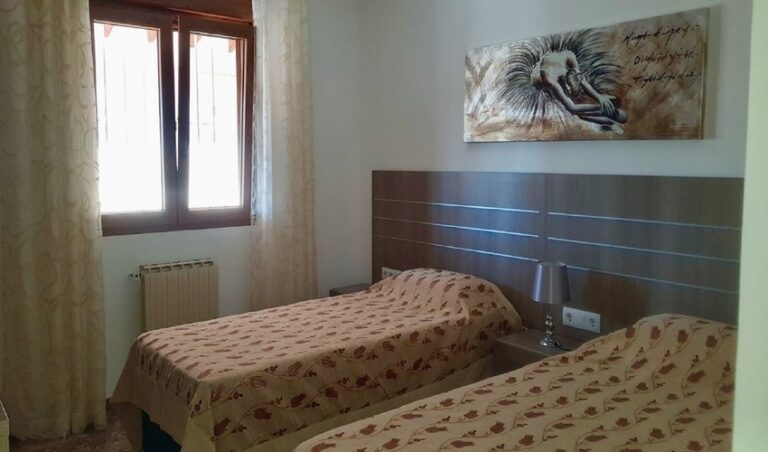 Scina Mussi
How Can I Help You?
Location of the villa
The Villa Las Rosas is situated in a very quiet district, with a fantastic view on the Mediterrean sea, the hills and the Pinon Ifach. The property has nearly 1900 square meters and has a spanish styled garden with a big pool and a generous sun terrace.
The Villa
It has a roofed terrace for a gas griddl, with a table for 8 people. The Villa has nearly 300 square meters on 2 floors, a private parking space for two cars in front of the house. The pool has a depth from 1,40 m to 2,20m and is 11m to 5 m big.
Ground floor
Here we have a big open living room,a fully equiped kitchen and a dining room, two bedrooms, a new modern bathroom, a roofed terrace with a view to the pool and the garden and it is set up for 4 people.
Upper floor
The apartment on the upper floor has a big entrance, a fully equipped kitchen, a living room, a dining room, a wonderful winter garden with windows to open and the view to the garden, the hills and the Pinon Ifach and an open terrace. The main bedroom has an ensuite modern bathroom and a door to the open terrace. Also a second bedroom with a seperate smaller modern bathroom. The apartment is set up for 4 people.
Interior
All rooms have air conditioning, which can be used with cold and hot air system. The furniture is new , from good quality and comfortable. On every floor you will find a flatscreen TV with the satelites Astra and Hotbird. Also there is Internet and Wifi which is in the renting price included, as well as towels and bed linen. In both kitchens you will find big refrigerator and a dishwasher. Every bathroom is furnished with towels and a hairdryer. On the upper floor we have a utility room with a washing machine and a dryer which can be used by the renters
| Month | 1 Day | 1 Week | 2 Weeks | 3 Weeks | 4 Weeks |
| --- | --- | --- | --- | --- | --- |
| January | € 250,00 | € 900,00 | € 1.700,00 | € 2.100,00 | € 2.600,00 |
| February | € 250,00 | € 900,00 | € 1.700,00 | € 2.100,00 | € 2.600,00 |
| March | € 250,00 | € 950,00 | € 1.800,00 | € 2.200,00 | € 2.700,00 |
| April | € 250,00 | € 950,00 | € 1.900,00 | € 2.400,00 | € 2.900,00 |
| May | € 250,00 | € 950,00 | € 1.900,00 | € 2.400,00 | € 3.000,00 |
| June | € 270,00 | € 1.000,00 | € 2.000,00 | € 2.800,00 | € 3.500,00 |
| July | | € 1.700,00 | € 3.400,00 | € 5.100,00 | € 6.100,00 |
| August | | € 1.700,00 | € 3.400,00 | € 5.100,00 | € 6.100,00 |
| September | € 270,00 | € 1.000,00 | € 2.000,00 | € 2.800,00 | € 3.500,00 |
| October | € 250,00 | € 950,00 | € 1.800,00 | € 2.400,00 | € 2.900,00 |
| November | € 250,00 | € 900,00 | € 1.700,00 | € 2.100,00 | € 2.600,00 |
| December | € 250,00 | € 900,00 | € 1.700,00 | € 2.100,00 | € 2.600,00 |
| 23 Dec. until 3Jan. | € 250,00 | € 1.200,00 | | | |
| Total Guest : | 8 |
| --- | --- |
| Contact Mail : | scina.calpe@yahoo.com |
| House Address : | Avinguda de Fanàdix, 42, Benissa, Spain |
| Home Contact : | 0034 688 238 609 |
| Minimum Stay : | 4 Days |
Villas Scina Calpe
Average rating:
0 reviews