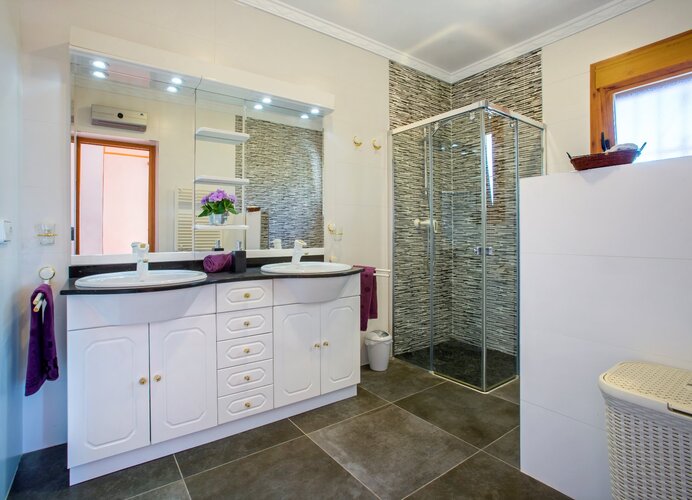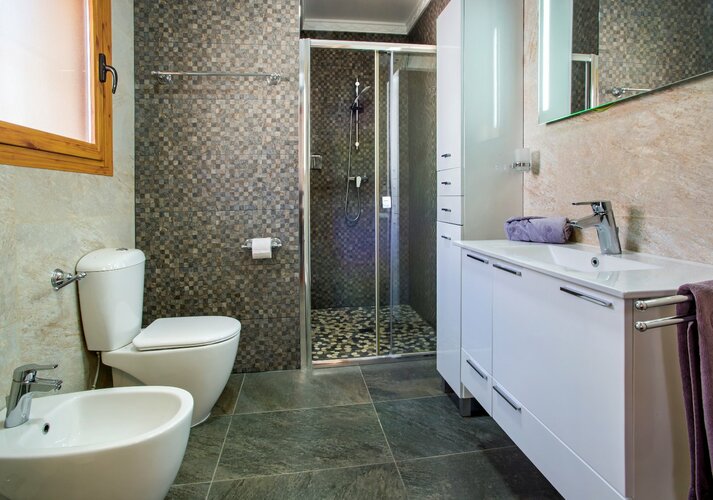 Scina Mussi
How Can I Help You?
Location of Villa Scina
During your stay in this romantic villa, you can enjoy the beautiful locations in the small town of Calpe. A high-quality villa is waiting for you in a wonderful and peaceful place with view of the Mediterranean Sea. Within 2,5 kilometers distance is the center of the city of Calpe. There you can enjoy its shops, bars, restaurants, a wonderful coast and beaches.
The Villa
Villa Scina has 2 floors and is suited for 8 people. On the upper floor you will find 2 suites with all comforts and air conditioners. One of the bedrooms has a big terrace with an open view of the sea and green forest. On the ground floor you will find two large bedrooms with air conditioners and in between one big bathroom. Furthermore, there is a nice big entrance with a toilet for your guests and a salon area. In the residential area, with air conditioner, you will find the fully equipped open kitchen, that you have everything you need to prepare the perfect meal. The kitchen has a refrigerator with a freezer, a dishwasher, an electric stove with oven, a microwave, coffee machine, toaster and much more, a dining room, a big living room with sea view, a flatscreen TV and a pellet stove. From the entrance and the living room you can enter to the roofed terrace with a stunning view to the garden, the pool and the sea.
Interior
The Wi-Fi and the satellite TV for English, French and German channels is included in the renting price. The hot water system comes over solar. In the wintertime you can use the pellet stove or the electric heating. You have also a washing machine, iron with ironing board, vacuum cleaner, bed linen, towels, household linen, a hairdryer in every bathroom for your daily use. You can park your car in the interior parking which has space for two cars.
The Garden
The wonderful cultivated garden is 2500 square meters, where you can relax with a beautiful view of the landscape and the sea. In the garden you will find different kinds of fruit trees, like orange, lemon, medlar, fig and almond. The garden has a beautiful fountain and a cozy sitting area. The size of the private pool is 5 x 10 m. (max depth 2,20m) that invites you for a refreshing swim and afterwards you can bathe in the sun on the sunbathing chairs. Also, you will find a shower, toilet and one area covered with kitchen equipment, like refrigerator, cooking gas stove, griddle with gas, paellero with gas and a table with 8 chairs.
We are there for you
Feel free to contact me. We can answer you in the languages English, Italian, German, French and Spanish.
| Month | 1 Day | 1 Week | 2 Weeks | 3 Weeks | 4 Weeks |
| --- | --- | --- | --- | --- | --- |
| January | € 150,00 | € 1.050,00 | € 2.100,00 | € 2.600,00 | € 3.200,00 |
| February | € 150,00 | € 1.050,00 | € 2.100,00 | € 2.600,00 | € 3.200,00 |
| March | € 150,00 | € 1.050,00 | € 2.100,00 | € 2.600,00 | € 3.200,00 |
| April | € 171,00 | € 1.200,00 | € 2.400,00 | € 3.000,00 | € 3.600,00 |
| May | € 175,00 | € 1.225,00 | € 2.450,00 | € 3.100,00 | € 4.100,00 |
| June | € 180,00 | € 1.260,00 | € 2.520,00 | € 3.400,00 | € 4.200,00 |
| July | 270,00 | € 1.890,00 | € 3.780,00 | € 5.600,00 | € 6.100,00 |
| August | 270,00 | € 1.890,00 | € 3.780,00 | € 5.600,00 | € 6.100,00 |
| September | € 180,00 | € 1.260,00 | € 2.520,00 | € 3.400,00 | € 4.200,00 |
| October | € 175,00 | € 1.225,00 | € 2.450,00 | € 3.100,00 | € 4.100,00 |
| November | € 150,00 | € 1.050,00 | € 2.100,00 | € 2.600,00 | € 3.200,00 |
| December | € 150,00 | € 1.050 | € 2.100,00 | € 2.600,00 | € 3.200,00 |
| December 23 /2022 to 03/01/2023 | € 250,00 | | | | |
| Total Guest : | 8 |
| --- | --- |
| Contact Mail : | scina.calpe@yahoo.com |
| House Address | Partida Colina del Sol, 24A, 03710 Calpe, Alicante, Spain |
| Home Contact : | 0034 688 238 609 |
| Minimum Stay : | 5 Days |
Villas Scina Calpe
Average rating:
0 reviews